Serving Palm Beach County since 1961, the Eyecare Professionals staff takes pride in supplying each patient with a unique advanced eye care experience.
From comprehensive eye exams to advanced vision services, our optometrists strive to help you maintain and improve your eyesight. Emergency services include conjunctivitis or 'pink eye' treatment as well as foreign body removal.
We invite you and your family to experience our dedication to providing quality advanced eye care!
While you may be able to wear your contact lenses the majority of the day, the following are important reasons why you still need to have glasses with a current prescription.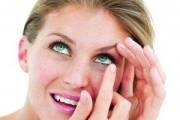 Contact lenses can be appropriate for any age. Given the right circumstances, even the elderly or infant children
Low Vision Magnifiers
Low vision is significant vision impairment that usually results from serious eye disease or an injury. The vision loss, which is characterized by either reduced visual acuity (to 20/70 or worse) or reduced field of view, can't be fully corrected with glasses, contact lenses, medication or surgery.
Our Doctors
Our experienced doctors can assist you with services including cataract and glaucoma screening, pediatric vision exams, low vision exams, and general vision care for the entire family. We work closely with area ophthamologists and co-manage post surgical lasik and cataract surgery.
Aug 13, 2017
What's it like to be color blind? Contrary to what...
Take a moment to visit our site and see the services we have available for you:
1280 W Lantana Road
Lantana, FL 33462
In case of emergency, please phone our office at the number listed above and follow the instructions.
Monday:

8:00 AM - 5:00 PM

Tuesday:

8:00 AM - 7:00 PM

Wednesday:

8:00 AM - 5:00 PM

Thursday:

8:00 AM - 7:00 PM

Friday:

8:00 AM - 5:00 PM

Saturday:

8:00 AM - Noon

Sunday:

Closed